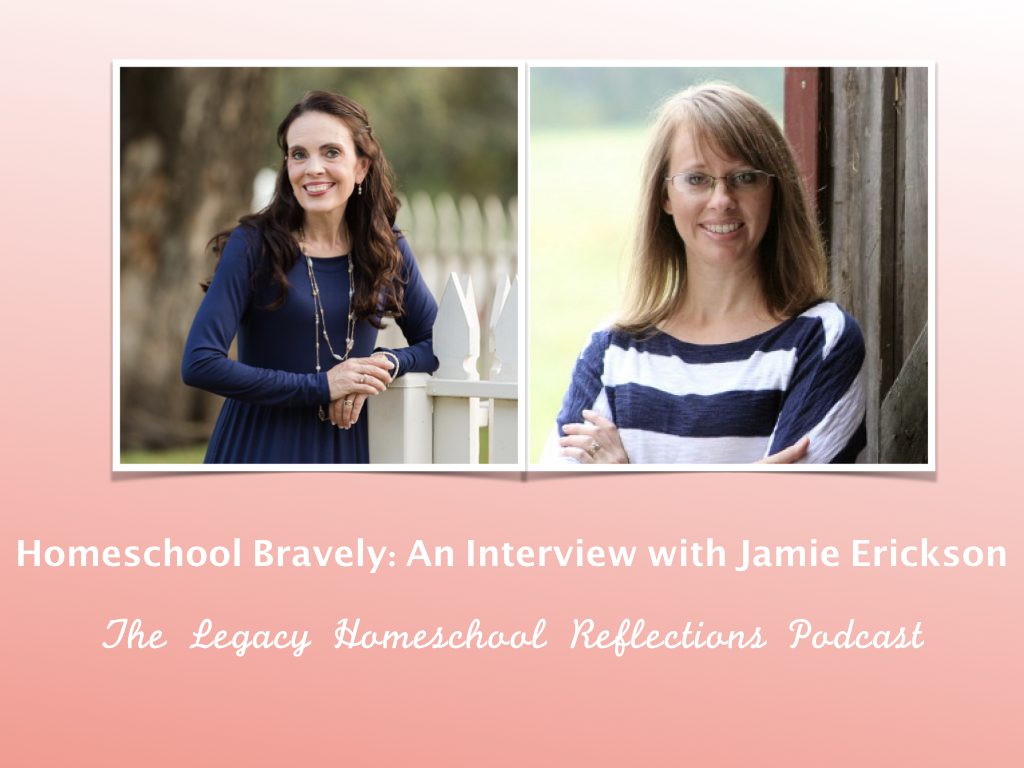 Fear not, for I am with you;
be not dismayed, for I am your God;
I will strengthen you, I will help you,
I will uphold you with my righteous right hand. – Isaiah 41:10
Hello Friends! Have you ever been plagued with fears in your homeschool journey? I know so many homeschooling mamas enter the world of homeschooling with the fear that somehow they are going to mess their children up, not be enough for their children, or a host of other concerns.
My guest for this episode of the podcast is Jamie Erickson author of the book Homeschool Bravely.
I really enjoyed talking to Jamie, and I think you are going to be encouraged by hearing the wisdom she shared! I hope you will take time to listen, share with friends, and leave a review on iTunes.
You can connect with Jamie in these ways:
Jamie is also the co-host on the Mom 2 Mom Podcast. You can listen to that podcast here: http://momtomompodcast.com/podcast/
I encourage you to check out Jamie's book and podcast and to connect with her on social media. I know you will be encouraged!
For more encouragement please check out my book Legacy Reflections of a Homeschooled Homeschooling Mama https://www.amazon.com/Legacy-Reflections-Homeschooled-Homeschooling-Mama/dp/1973737825/ref=sr_1_1?keywords=legacy+reflections+of+a+homeschooled+homeschooling+mama&qid=1568643438&s=books&sr=1-1
Also, here is the link to my husband's book Ordinary Homeschool Dad
https://www.amazon.com/Ordinary-Homeschool-Dad-Matthew-Adams/dp/1718950012
Ladies, I hope you have a great week! Thank you for listening and sharing this podcast with your friends. May the Lord bless each of you as you serve Him this week!