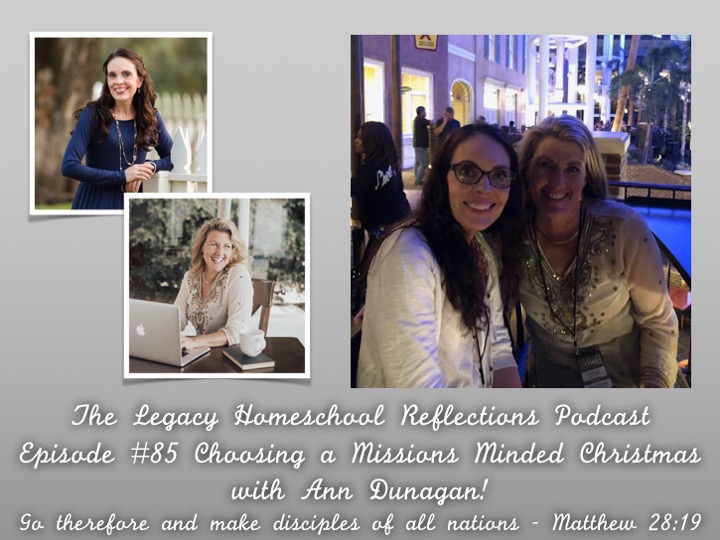 I am really excited about this week's episode of the "Legacy Homeschool Reflections Podcast."
On this episode I had the privilege of interviewing my sweet friend Ann Dunagan. Ann is full of life, encouragement, and passion for sharing the gospel of Jesus Christ! She is a veteran homeschool mom to seven children who are all seeking to fulfill the great commission in their generation. Ann has been an encourager and cheerleader in my life, and I am confident that you will be encouraged by hearing her heart for living with an eternal perspective.
In our discussion, Ann and I talk about creative ways that we can be living on mission for Jesus during the Christmas season. Christmastime offers our families unique opportunities to share Christ, so on this episode Ann and I discuss some ways families can engage in the great commission during the holiday season.
Here are links for connecting with Ann and other helpful resources:h
https://podcasts.apple.com/us/podcast/mission-minded-families-ann/id1039901563
https://www.missionmindedfamilies.org
https://www.facebook.com/groups/580355072027609/
Click here to find my book: https://www.amazon.com/Legacy-Reflections-Homeschooled-Homeschooling-Mama/dp/1973737825/ref=sr_1_1?keywords=Legacy+Reflections+of+a+Homeschooled+Homeschooling+Mama&qid=1563892660&s=gateway&sr=8-1
Click here to find my husband's book to encourage homeschool dads: https://www.amazon.com/Ordinary-Homeschool-Dad-Matthew-Adams/dp/1718950012/ref=sr_1_1?keywords=ordinary+homeschool+dad&qid=1563892741&s=gateway&sr=8-1
Click Here to find the Scripture Scrolls mentioned in the podcast:
Ladies, I hope you have been encouraged by this discussion about living on mission for Jesus Christ! If so, would you consider leaving a star rating on iTunes and a short review? Those ratings and reviews go a long ways in helping other mothers to find the podcast. We read each one and really appreciate them!
Please take the time to connect with me and let me know you are enjoying the podcast. If there are any particular topics you wold like me to address in the new year, please send me your ideas. You can connect with me here on this website and also on facebook at: https://www.facebook.com/pg/legacyhomeschoolreflections/posts/?ref=page_internal
May the Lord bless you abundantly this week and may we all seek to live on mission for Jesus Christ as we walk in light of eternity. I appreciate you all!